What can predict who will have sex on the first date?
Ask them: "Do you like the taste of beer?"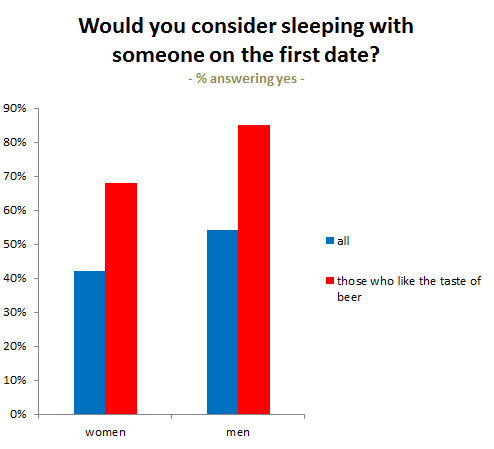 Via OkCupid:
Among all our casual topics, whether someone likes the taste of beer is the single best predictor of if he or she has sex on the first date… No matter their gender or orientation, beer-lovers are 60% more likely to be okay with sleeping with someone they've just met. Sadly, this is the only question with a meaningful correlation for women.
Join 45K+ readers. Get a free weekly update via email here.
Related posts:
10 things you need to know about attraction
10 things that you need to know about sex
An easy way for women to be more attractive to men and men to be more attractive to women
---
Posted On: December 21, 2011
Posted In:
Post Details